How to start a career in Project management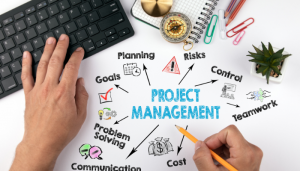 Project management is the science and art that uses proven processes, skills, tools, and knowledge to complete a planned project and achieve its goals. This, of course, is done within a timeline and budget that the client and the project manager determine. You're probably wondering why this is a field that you should consider when choosing a career. Here's why!
The role of the project manager has proven to be essential in all industries. Project managers are always in demand to plan and guide the work of any project; this ensures that you're never out of work!
Along with the high demand project management is also one of the highest paying careers. If you're looking to work in different industries and want the opportunity to work on cool, engaging projects then it's definitely a career you should consider.
Project management is an incredibly flexible field; you could be employed by a startup or a big corporation. You could work full-time, freelance, or even be a consultant.
Sounds like the perfect job, doesn't it? You should keep in mind though that a career in project management is also very stressful, requires constantly polishing your knowledge and developing your skills.
Where do I start? What education should I receive? Do I need experience to get hired? What skills should I have? These are questions that are probably running through your head right now. Let's answer those!
You should start with getting a certification in project management from the most recognized governing body, the Project Management Institute (PMI). If you've been doing some research then you probably came across the PMP certification which stands for Project Management Professional certificate. The catch is that it requires you to have 3-5 years of project experience to acquire the certificate.
But don't worry, there's another way to get certified in project management without any work experience.  If you're just taking the very first steps into the field a CAPM certification is the best way to get into a career in project management. CAPM stands for Certified Associate in Project Management and it's geared toward people who want to start a career in project management but don't yet have any experience.  CAPM doesn't require experience; the only prerequisites are a Secondary degree (e.g. high school diploma) and 23 education hours in the field of project management. It's also issued by the same governing body as the PMP, the Project Management Institute, so it's still highly valued by employers.
If you're new to project management, the terminology, processes, and approaches can be daunting, not to mention you're likely wondering where you can qualify for those 23 education hours required by the PMI? The good news is, you can kill two birds with one stone, without breaking the bank.  CAPM exam prep courses are available online for a reasonable price ($350-500 USD).  We recommend taking a self-paced course that will allow you to complete the work at your own pace.  Be sure that it includes realistic practice exams.  There are a few of these courses available, but if you're looking for something that won't put you to sleep while teaching you everything you need, we'd recommend Brain Sensei's CAPM exam prep course (they also include a 100% pass guarantee!).
Brain Sensei decided that online learning shouldn't be boring and preparing for your CAPM exam shouldn't be painful! They offer a unique storytelling approach. The Interactive storytelling they've built into the online experience increases your chance of remembering core concepts and therefore passing the exam.
The CAPM course by Brain Sensei also stands out because of its highly competitive price, 99.6% first-try pass rate for students, 100% pass guarantee, and money-back guarantee.  It's self-paced, with realistic practice exam questions and you'll have access for a full year (there's also a low-priced monthly subscription option if you want to go that route).
Earning your CAPM will show employers that you're serious about getting into project management and that you have a decent understanding of the standardized processes and terminology.  Once you land your first job in project management, many employers will cover the cost of earning your PMP.  The CAPM is the perfect way to start building a strong resume and a lucrative and rewarding career in project management.