3D Printer as an Additional Source of Income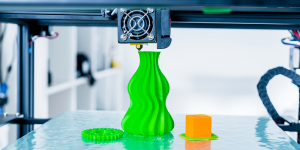 The 3D printer can be called a universal tool, which is already being used to its full potential in medicine, electronics, automobiles, the food industry, and even in house construction. There is a way to make money with this device at home as well. We will tell you about the real prospects of such a part-time job.
There are many ways to make money with a 3D printer at home. Although this will require some investment, it will pay off over time. The main thing is to properly assess your ability to carry out business projects and the demand for the products that will be printed on the printer. Here are just four areas where you can use a home 3D printing machine to print plastic parts.
Unique Items
The most popular way to make money with a 3D printer is to print unique items, for example, fashion accessories like handbags, belt buckles and even entire costumes. Whether it's Halloween, a costume contest or even someone's cosplay event – all these are good uses for printing. Of course, the cost of clothing will be pretty high – but you can't make it any other way. The printer owner needs to find customers and get acquainted with the proposals of other performers, setting a lower price.
To find customers of themed costumes for parties and celebrations, you should use forums and communities on the Internet. The same will have to be done to find customers among game and movie fans who can order unique clothing and matching accessories – such as character weapons or even figures.
The list of unique items that are printed on a 3D printer can include:
Cases for smartphones;
Exclusive headphone covers;
Cup holders;
Plastic tools – wrenches and even hammers;
Holders for phones, glasses or bottles.
Souvenirs and Museum Pieces
Some of the best-selling 3D printer products are souvenirs. For example, key chains or mugs with the name of the customer company. And another exciting option is to make copies of exhibits from famous museums, models of popular architectural landmarks or sculptures. It is best to use objects for this, located in the same city where the owner of the printer lives – this will make it easier to find customers.
Copies of People
Among the ways to make money with a 3D printer, another entirely original one is printing thumbnail copies of customers. The figures are first scanned with a handheld 3D scanner – this takes about 10 minutes. The main thing when scanning is the stillness of the person. Then the model is corrected by the designer and finally printed. Special software and a suitable printer are used to create the figures.
Spare Parts
No less profitable way to make money with a 3D printer can be the creation of spare parts. These can be parts of household appliances and electronics that are almost impossible to find in retail sales. Items made with the help of 3D printing will be in demand among the owners of such devices, who will not be able to throw away faulty devices but repair them. In this case, the work will have to be made to order because it is impossible to predict what spare parts will be needed in advance.
The owner of a 3D printer can earn money on the manufacture of automotive parts, such as plastic gears, three-dimensional inscriptions and emblems, headlight washers, car radio bodies and details of the dashboard. You have to look for profile automobile communities and groups in social networks to sell such parts, offering your services in the relevant sections.
Before Starting
While deciding on the direction of work, it's better to know how much money you will need to buy equipment and how much you can earn. For example, for high-speed and high-quality printing with high-temperature plastics, you will need to spend more money.
The payback period of the device depends on many factors:
customer base;
skills in creating 3D models;
cost of raw materials;
Final Words
If you are going to use a 3D printer at home to create your own business, you should be aware of specific difficulties:
Even with the most advanced models, not everything can be printed. Before printing, you should consider the print resolution, geometry, and dimensions of the product.
Most 3D printers available to the individual provide only single-colour printing. Models with two extruders work with two colours. Still, they cannot achieve a smooth transition between shades – the border will be clear and noticeable.
After printing, the parts mostly have to be machined with sandpaper, files and solvents. Quite often, finished products will have to be painted.
When calculating the cost of parts, you should consider the cost of the primary material and additional consumables, including solvents and paints. This will allow you to determine what price to set for the finished products – so that the business turns out to be profitable and competitive at the same time.
To work with printers and scanners requires special software and skills to work with it. An entrepreneur who has decided to make money from 3D printing may need the help of an expert. However, suppose you are going to work alone. In that case, it is worth taking the time to study 3D modelling – information and online courses can be found on specialized websites.