Leverage your Google My Business account to give your events a boost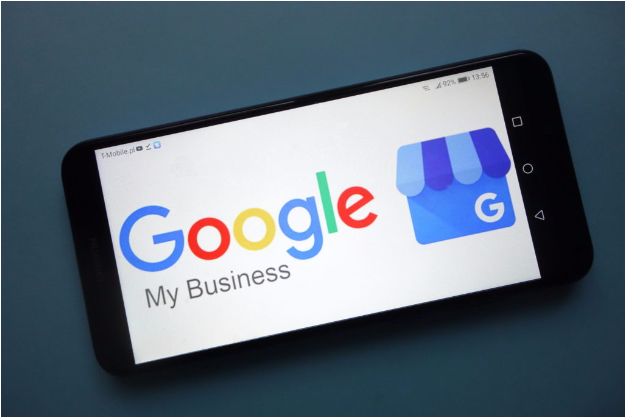 Whether you knew it or not, Google My Business is essential for Local SEO, as it enables your business listing to appear in local search results for queries specific to your products or services. Even broad queries with large search volumes display local results in the three-pack, and this is something small business owners can capitalize on. GMB can be a key part of your local SEO and marketing strategy, helping customers in your area find you, and your business improve search engine rankings.
A search engine's technology is very sophisticated and uses complex algorithms to evaluate and rank your website. Search engine optimization (SEO) is more than just backlinking and adding keywords to your website. SEO no longer works effectively as a standalone service and now includes elements of content marketing, social media marketing, user experience (UX), PPC, and making sure all your Google properties are properly built-out.
Optimize your Presence Online
Keep your business info up-to-date: Make sure that your information is correct when people find it on Google. When information about your business changes, you can update it with Google My Business. Regular updates help ensure Google can share the most accurate information with your potential customers. Please note, in some cases, Google might not accept changes if the believe they're inaccurate.
Make your business listing awesome: Add details and updates to attract potential customers and keep your fans informed. Share photos! Your listing is a great place to showcase the photos that capture your business. Businesses with photos are more likely to receive requests for driving directions to their location, as well as clicks through to their websites, than businesses that don't have photos.
In addition to your logo and the picture you'd like to appear first on Google Maps results, you can post photos of products and events to keep customers in the know and show them what you do best. If you have a website, put your website's photos to work by also posting them to your listing using Google My Business.
There are several types of photos you can add to your Business Profile:
Logo: Help your customers recognize your business on Google. For businesses that have their basic information, such as a phone number or hours of operation, the Business Profile highlights the logo.
Cover photo: Set a cover photo at the top of your profile that best represents your business. In some instances, this action doesn't guarantee the cover photo will show up as the first image for your business.
Business photos: Add different photos to highlight features of your business to attract and inform customers. Learn more about business photos.
Improve your local ranking on Google: Improve your information to maximize how often potential customers might see your business in local search results. When someone searches for a business or place near their location, they'll find local results across Google, in places like Maps and Search.
Interact with Customers
You can read and respond to reviews from your customers. Post photos that show off what you do. Businesses that add photos to their Business Profiles receive 42% more requests for directions on Google Maps, and 35% more clicks through to their websites than businesses that don't.
Google My Business now provides its users the ability to publish upcoming events directly to your Google My Business account. This ability is significant and shouldn't be overlooked.
WHAT IS A GOOGLE MY BUSINESS EVENT?
Posts on Google My Business are not new, but the ability to feature events however is. Somewhat similar to a social media post, except it shows up in the Google search results, Google My Business Event posts allow you to promote your upcoming events on your Google My Business profile and help gain publicity.
Additionally, by adding your events to your GMB profile you cast a much wider promotional net – as they'll also be automatically included on your Google listing, in both Google Organic Search and on Google Maps. It's a great way to let your customers and prospects know what's happening at your business, raise brand awareness, and gain their interest.
Three Ways You Can Promote Your Google My Business Event
Listing an event on Google also adds it to Google Maps and other Google products. This amplifies your marketing reach and enables you to promote your event to people via mobile search, local event calendars, and more.
There are three methods to add items to the Google Event search feature and promote your event free:
HTML: HTML can be edited to directly integrate your event landing page with Google.
CMS plugins for WordPress: If your website is hosted on a WordPress-powered platform, there are CMS plugins available that can feed event information into Google.
Use third-party software:Developers have created software that integrates quickly and easily and propagates your content into Google's many products. Eventbrite is one such tool.
Similar to offers, you'll need to set the time frame for your event, which may be a day, a month or even longer. If you choose not to place start and end dates, the event defaults to 24 hours after posting the event.
Optionally, you can include the location, a photo or video, a description, or a Call To Action (CTA) such as "RSVP" or "Get Tickets." Google also states that if your event meets specific criteria, it can show on the "Overview" tab in your Google My Business profile.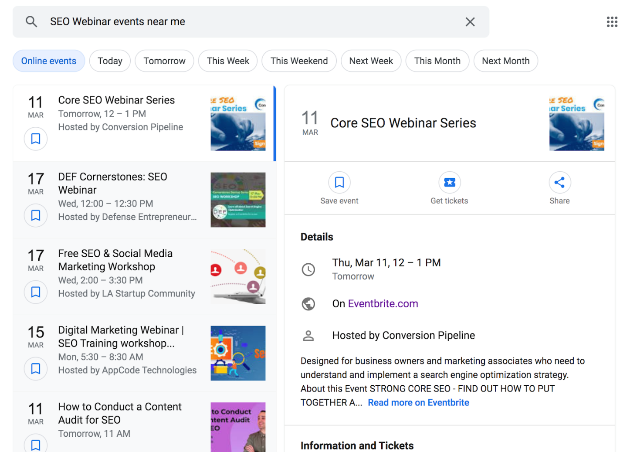 Similar to the "What's New" posts, events will show up in your desktop search knowledge panel, often under your address and hours section. For mobile search, events will show up in your "Updates" tab along with your other posts.
Bottom line: Event Posts on Google My Business allow you to promote events on your profile to help gain publicity. We strongly recommend them.
Local Searches on desktops and mobile devices are increasing every year. It's important for your business to take advantage of local SEO services to increase your rankings before your competitors do. All businesses, from IT companies and CPAs to dentists and law firms can improve their online leads generated from through local SEO strategies. Conversion Pipeline has been helping businesses improve their positions in the local searches since 2009, making us a Top Local SEO Company.
Contact us for a consultation today.