How to Become a Real Estate Photographer: Everything You Should Know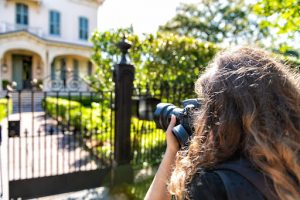 Have you been wondering how to become a real estate photographer? Real estate photography can become a lucrative career. Whether you want to pursue it full-time or part-time, becoming a real estate photographer is not just about photographing homes.
This may come as a surprise to many people, but real estate photography is a little more complicated than you might imagine. But that doesn't mean you can't do it!
Let's dive into everything you need to know about real estate photography and why you should consider getting started in this niche today.
What Is Real Estate Photography?
Real estate photography is basically the creation of photos for real estate agents to help them sell and promote their listings. You may be working with private sellers or real estate agents, but in the end, both types of clients want beautiful photos of their properties to attract potential buyers.
This is where the real estate photographer comes to save the day. Without your beautiful photos, buyers won't think about visiting. Studies have shown, beautiful real estate photography can make or break a sale.
A Day in the Life of a Real Estate Photographer
As we mentioned above, real estate photography is about much more than just taking photos. Here are some of the key components of a real estate photographer's daily schedule.
Styling Homes
Oftentimes the real estate photographer is the stylist and the photographer. I am sure any photographer would love for a stylist to show up to all their shoots and move furniture and designs to produce excellent results.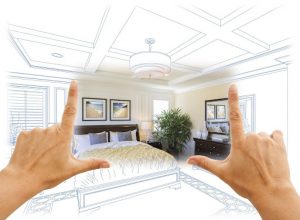 Instead, this is usually included in your job. Depending on how large the space is, real estate photographers can spend hours staging a space. You need to move furniture, so the space looks bigger and more welcoming.
You want to help potential buyers imagine themselves in the home while you're shooting. Shoot the property from the point of view of the buyer. That means removing any personal items that belong to the current owners. Also, highlighting key features of the home is largely important, such as beach views or a jacuzzi. Each interior is unique and will require your professional eye and skills to shoot it well.
Planning Ahead
A rookie mistake in real estate photography is thinking you can just show up and start shooting without knowing anything about the property. Instead, work with local real estate agents to learn about the property before you arrive.
Create a shot list of must-have shots such as exterior, interior, number of bedrooms, and unique details you will be shooting.
Also, think about what equipment you may need depending on the property. Some properties require more lighting or editing. Some clients may even ask for drone services. Consider all of this before arriving at the house.
Maintaining Your Photography Gear
Any professional real estate photographer will know they need to prepare and maintain their equipment for each location. That means having a fully charged camera body, tripod, flash batteries, additional light setups, and the money to invest in the newest and greatest lights.
Each business is run differently when it comes to becoming a real estate photographer, but these are some key things they all think about.
Post Production
To become a real estate photographer, you need to be prepared for a fast turnaround time with business clients. Photo editing is expected to be done, usually within around 48 hours. The real estate business is a fast-moving one, and they need your real estate photography as fast as possible to sell faster.
This is why it's important you know how to edit your real estate photography to a higher standard. Most photographers use Adobe Lightroom or Photoshop as their primary editing software. 
Moreover, using Presets is a valuable tool for making your photos look more beautiful, and you can download PhotographyCourse real estate presets here. 
It all depends on the property, potential clients, light, and room. Take your time while editing to develop your own style on the job or outsource the editing services using a website like Fiverr or Upwork.
Portfolio
A client will expect to see your portfolio, which is why real estate photographers are constantly working on bettering their work and building a portfolio that spans many different locations and includes exterior shots and interior photos.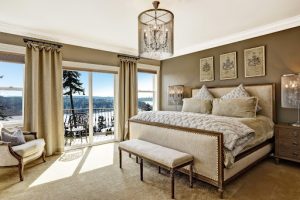 A professional real estate photographer will have a strong website that is easy to navigate and features only their best online work. If you need to build your portfolio, consider shooting a few of your friend's and families' homes for free before charging your normal fees.
Building Local Connections
To be successful in real estate photography, you need to focus on building local connections to agents and offices that can connect you to clients. If you want to make real money as a real estate photographer, one of the top tips is networking with other professional people in your industry.
This means stylists, estate agents, furniture companies, and independent people who are selling their houses themselves.
The key to being successful in the job is who you know, pictures will only take you so far. Make sure you tell everyone about your services, website and build an online presence. You want people to think of your business first when they have a real estate photography job.
Camera Equipment
To run a successful real estate photography business, you may think you need a lot of expensive equipment. However, most photographers who are shooting any house only need a few key pieces of camera equipment.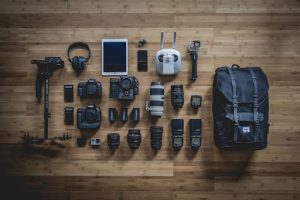 Tripod
The number one piece of camera equipment you need for your business is a sturdy tripod. Why? Because you will be required to take long exposures in many different room situations. A sturdy tripod needs to keep your photos from becoming blurry and will also help you keep your photos' vertical lines straight.
No matter how great your photo skills are, without investing money in a tripod, the light most likely won't work to your advantage. So make sure you shoot with a good one.
Wide Angle Lens
Just like most photography niches, your lens is more important than your DSLR camera.  Your lens will determine how wide your shots will be and how much light you can let in. Make sure you do not buy an ultra-wide lens because your images may become distorted.
Most photographers use a normal wide-angle lens such as a 10mm-24mm. Make sure you best a lot of time researching which wide-angle lens will work best on your camera for room shots. This is an important business investment.
Focal length is key to better images. Check out B&H Photo online to compare the lens you're thinking about and to ask for advice from pros.
Flash
Lighting is of course key for your real estate photography business. That's why you need at least one good flash to take on the job. If you can afford additional flash and lighting setups, make sure you invest in some sturdy light stands as well.
The more lighting you have, the better your images will look. The idea is to expose so clients can see outside the window but also keep the inside well lit and natural-looking.
Full Frame Camera
For better real estate photography, look for a full-frame camera. If you want your business to grow quickly and your photos to look the best they can, then why not spend the money on a great full-frame camera from the beginning.
You want a camera that has bracketing features and the ability to trigger a remote flash. Of course, look at its video features too. Many estate agents ask for 3D video tours of homes too. This will put your business ahead of the game.
Drone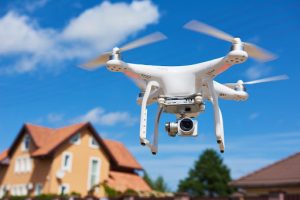 A drone is not required to become a real estate photographer, but it could help your business accelerate once again. Drones are becoming more and more affordable, and by adding drone photos and videos to your portfolio, you offer something different to each client. Your client base will be impressed by offering these options to your shots.
Additional Tips for Becoming a Real Estate Photography Expert
Here are a few more things you should consider when it comes to valuable skills every real estate photographer should invest in.
Communication Skills
Study how to become a better communicator. Your clients will have specific requests for their house photos, and if you learn how to communicate properly and make them feel like they are being heard and understood, they will be returning clients.
Every photo has a story to tell, but you need to ask your clients what story they are hoping to tell with each property. Listen to their key selling features and learn how your pictures can express that best.
Business Management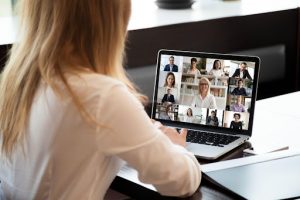 Being a photographer is never just about pictures. It also requires a level of expertise in business management. Consider taking a course online or in-person on how to better manage your finances, clients, and gear.
You may also want to learn about special tax breaks for photographers and invest in the right software for invoicing and following up with your clients. Consider using Shootq, which is a powerful tool for studio/business management.
Time Management
As mentioned above, each shoot requires images in a fast turnaround time. So you need to evaluate your time management skills to see if real estate photography works for your speed and skill set. If you aren't feeling up to the fast shoot rates, then consider outsourcing the editing to help you keep up with your client's needs.
How much do Real Estate Photographers Earn?
According to salary.com, real estate photographers earn $66,303 per year on average in the US. This income varies based on many factors. But mainly on the size of the property as well as the location.
If you are shooting in major cities such as New York, San Francisco, or Miami, expect higher incomes based on the demand of the properties.
Tips for Better Real Estate Photography
Here are a few things you can do to take your real estate photos to the next level. Try one of these tips or combine them for a better outcome.
Shoot from Multiple Angles
Oftentimes agents will have to relist a property if it does not sell fast enough. By shooting multiple angles, you are providing the opportunity for them to sell it with the look of a new listing. This is more exciting for potential buyers.
Shoot at Noon
Unlike other genres of photography, shooting at noon works great for real estate photography. Because the sun will be directly overhead, it will be easier to expose outdoors and indoor. Try to wait for a sunny day if you are in a beach location.
Otherwise, a cloudy day works as well to even out exposures. But try to avoid rainy days whenever possible.
Emphasize Features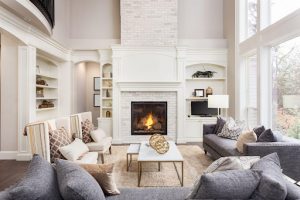 Take a walk through the property before you start shooting and look for details you can emphasize. Is there a beautiful bookcase? Spacious kitchen? High ceilings?
Evaluate all these features before you try to shoot the rooms. Your images will look beautiful if you focus on what's already attractive in each room.
Bracketing
Become an expert at bracketing your images. This will help you to expose for different lighting situations. The idea is to take multiple pictures of the same scene but at different exposures. Next, you can open Photoshop and easily overlay the images to create one natural, perfectly exposed room.
Conclusion
We hope this article answered all your questions about how to become a real estate photographer! There is always more to learn about real estate photography, but this article should be an excellent start to your career in this special niche. Keep in mind these top three things to be successful: Learn your lighting, Network like no tomorrow, and keep learning!