From the U.S. to the Swiss Alps: Your Ultimate Job Hunt Guide in Switzerland
Moving from the bustle of American cities to the serene landscapes of Switzerland for a career move is an exciting journey. Switzerland offers a unique blend of cultural diversity, a robust economy, and a high quality of life, making it an attractive destination for many professionals. This guide aims to provide you with the essential knowledge needed to navigate the Swiss job market and make your transition as smooth as possible.
Understanding the Swiss Job Market
Switzerland's economy is a paragon of stability and innovation, with key industries that include finance, pharmaceuticals, luxury goods, and technology. Each sector has its hubs; for finance and banking, Zurich and Geneva are the powerhouses, while Basel is the heart of pharmaceuticals and life sciences. The tech industry is rapidly growing, with a particularly vibrant startup scene in Zurich and Lausanne.
One cannot overlook the importance of language in the Swiss job hunt. German, French, and Italian are the main languages, with English widely spoken in corporate environments. Nevertheless, having proficiency in at least one of the local languages significantly enhances your job prospects and eases your integration into Swiss society.
Preparing for Your Swiss Job Hunt
A successful job search in Switzerland requires preparation and understanding of the local job market nuances. Essential documentation includes a well-crafted resume, often accompanied by a cover letter and copies of your educational and professional certificates. Work permits are another critical consideration; non-EU nationals typically need to secure employment before applying for a permit, and the quotas for these are limited.
Your resume should be concise, clear, and tailored to the Swiss market. Swiss employers value precision and formality; therefore, a two-page CV that includes a professional photo and a clear listing of your skills and experience is recommended. A cover letter that demonstrates your understanding of the Swiss market and the specific company you're applying to can be a decisive factor in your application.
Navigating the Swiss Job Search
The Swiss job search can be conducted through various channels. Online job portals such as Jobs.ch, LinkedIn, and Jooble are widely used, but networking plays an equally important role. Many jobs in Switzerland are filled through referrals and personal connections, so it's beneficial to build a network through professional associations and local meetups.
When applying for jobs, it's essential to customize your application to each position and employer. This means not only tailoring your CV and cover letter but also preparing diligently for interviews. Understanding Swiss business etiquette, such as the importance of punctuality and formality, will help you make a positive impression.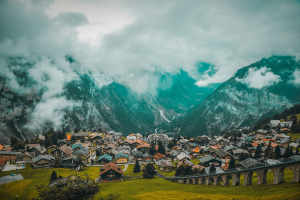 Relocating to Switzerland
Once you have a job offer, the relocation process begins. This involves not only finding somewhere to live but also getting to grips with Swiss culture and lifestyle. The housing market can be tight, especially in popular cities, so it's wise to start your search early. Websites such as Homegate and ImmoScout24 can be invaluable resources in finding a new home.
Prior to relocating to Switzerland, it's entirely reasonable to make a few tourist visits to acquaint yourself with the country, understand the logistics of getting there, and identify cities that align with your comfort. Various resources, such as Lost in Switzerland, can provide valuable information about it.
Adjusting to the cost of living in Switzerland can be a challenge, as it is one of the highest in the world. However, this is generally offset by higher salaries. It's important to understand the nuances of Swiss taxation and social security to budget effectively.
Conclusion
Embracing the opportunity to work in Switzerland can be the start of a thrilling professional adventure. The Swiss job market is rich with opportunities for those willing to adapt and embrace the local culture. This guide has walked you through the key steps in preparing for your job search, navigating the Swiss job market, and settling into your new life in Switzerland.